House of Fun
Look around the house. You are surrounded by different shapes, colours, textures, letters, numbers, mechanics ... worlds to explore for inquisitive minds. Have a go at some of the ideas below and learn through play.
FOAMING FUN & SNOWBALL LETTERS – Lindelle McCrory
A fun way to practise letter formation enabling a sensory experience.
Learning Intention
Identify and write capital and lower-case letters.
Resources
Paper, marker, shaving foam, tray, plate, tongs and marshmallows/cotton balls.
Activity
1. The adult can write various capital letters and lower-case letters on paper/card.
2. The adult/child can spray shaving foam onto a tray or put numerous marshmallows/cotton balls on a plate.
3. The child can then use their finger or set of tongs to trace or create the capital or lower-case letter.
(If you use marshmallows try to not eat all them of course!)
Repeating Pattern Jewellery! 
– Megan Morgan
Create some repeating pattern jewellery with things you can find around the house. For example you could use some different coloured pasta and string, or you could make a paper chain with paper left over from Christmas! You can make the pattern as difficult or as easy as you like. See what you can come up with!  
Learning Intentions:  
To copy, continue and create a simple pattern  
Activity:  
1 .Search your house for something you can make a pattern out of. As previously mentioned you could use something like string and pasta, or make a paper chain!
2. Lay out your pattern, it could be something like 'red, yellow, red, yellow'. See if the child can copy or continue the pattern
3. Once the child has copied or continued the pattern, see if they can put them together to make a necklace or other jewellery
4. See if the child can create their own pattern next time!

Activity Extension:  
Can you find any patterns in your home? Try having a look at some bricks or furniture in your home! 
Sock Puppet Theatre!
  – Megan Morgan
Creating a sock puppet theatre allows children to express their creativity while also creating or re-telling stories that they love! Use them alone or create a theatre using an old cardboard box to show your stories! 
 Learning Intentions:  
 T

alking about experiences and stories 

 

Sequence stories in reasonable detail using appropriate language

 
Activity:  
1. Go on a search in your sock drawer to see if you can find an odd sock or two to make into sock puppets!
2. Once you have found your socks, grab some materials to make your socks have faces! This can include, googly eyes, pens and markers, string or pipe cleaners, or anything else you have lying around the house! These are just some examples of what you could use, get creative and see what you can make!
3. Once you've made your sock puppets you can either get to work telling a story right away, or make a puppet theatre…
4. If you want to make a puppet theatre, grab an old cardboard box that's no longer being used, for example an old shoe box, and cut a rectangle in it. You could even decorate it if you like! Now you've got a theatre for your puppets to perform in.
5. Try creating your own story or retelling a story you already know! For example,you could retell 'Goldilocks and the 3 Bears', you could even make your puppet look like one of the characters! Once you've reversed your story, try performing it for someone at home!

Activity Extension:  
To exte.nd this activity, children can draw a story map of the story they would like to tell, this can help them to sequence the events in their mind before performing it. They can add labels or comments to extend their ideas too. 
NUMBER HANGOUT – Lindelle McCrory
Have fun promoting number awareness while also helping to feed the birds.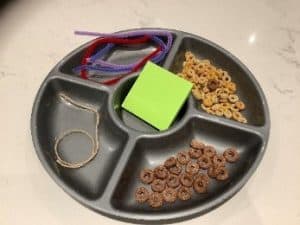 Learning Intention
Develop counting skills, counting forwards and backwards.
Activity
1. Resources: Pipe cleaner/string, sticky notes, pen, Cheerios/Weetos.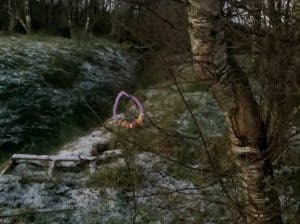 2. The adult/child can write a number on a sticky note from 1-20.
3. The child can then pick a pipe cleaner/piece of string and add Cheerios/Weetos to match the number on the sticky note.
4. The adult can help the child counting both forwards and backwards.
5. When finished counting, tie the end of the pipe cleaner or string and hang it out on a tree for the birds to feed on.
Hunt that Shape – Ellie Boyd
Your house is filled with everyday objects that can help your child's cognitive capabilities,  learning about shapes in a fun and exciting way – and they won't even know they are learning.
Learning Intentions
Children will explore and identify different shapes.
Activity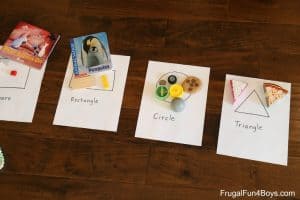 1. Get your camera or phone out and go on  shape hunt around your house!
2. Pick a different shape every day and take some pictures.
3. For younger children, give them the shape (e.g. a piece of paper cut in the shape of a circle, square, etc to hold beside and compare with objects in the house.
The Reading Nook – Colleen Megarry
Create a fun, cosy and imaginative reading nook for your child to fall in love with the world of books and reading. This will certainly help to put their little noses in books.
Learning Intention
Explore non-fiction and fiction story text independently and with other adults.
Resources:  large sheet, battery operated lights or torch, blanket, pillows, non-fiction and fiction books, carpet area. Table/furniture and (YouTube for Free Kids Books Read Aloud).
Activity
1. Together with the child create a cosy tent reading area by using a large sheet to put over a piece of furniture, such as a table. Then put in some small lights to create a special atmosphere.
2. Allow the child to choose some fiction and non-fiction books to bring to the reading tent.
3. To capture the child's interest in books, they could listen and watch any of the free (Kids Books Read Aloud) e.g. Be Brave, Little Penguin by Giles Andreae    https://www.youtube.com/watch?v=-UQ-vvC6psE
4. Then encourage the child to cosy up by looking at and reading their own choice of books.
5. At times, join your child in the tent and share reading together from a range of books. They will love being in your company and relish this special reading time together. Discuss what the book is about and ask the child to tell you some events that happened in the story.
6. Emphasise the meaning of fiction and non-fiction text by letting them know at the start that a book is fiction (not real) or non-fiction (real).
7. Most importantly, encourage the child to enjoy the world of books, as this action will help towards them developing many literacy skills and assist in them becoming lifelong readers.
Frozen Too – Ellie Boyd
Frozen meets the Great Escape – a great fun 'science' activity; a time when it's ok to be cool with the kids and for the kids to think you're cool!
Learning Intentions
Children will recognise changes happening in everyday life, e.g. ice melting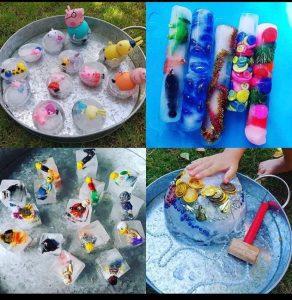 Activity
1. It's time to the kidnap some toys and banish them to the Kingdom of The Freezer.
2. You can use tubs, plastic containers, bun trays, ice cube trays, etc.
3.When frozen, it's time for the children to help the toys escape!
4. Give them different things to help such as spoons, toy hammers, warm water, salt.
And maybe follow it up with a bit of ice-cream and Elsa and Olaf!
Tuff Tray – Brooke Hanna
Filling a tray or container with a host of different materials and items for children to explore is a great sensory experience.
Learning Intentions
Development of fine motor skills, imagination and creativity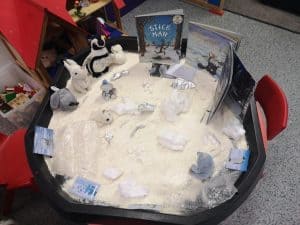 Activity
1. Fill a tray or a tub with anything you think your child may enjoy the feel of, e.g. cornflakes, rice, water-beads, flour, sand, etc. There are plenty of different ideas online.
2. Add different materials such as pots, toys, small (safe) items, photos, magazines, teddies, etc. and let your child play with these small world ideas!
3. You could link a story book at home with the things you put in the tray or box.
4. Playdough is also useful alongside these ideas to enhance creative thinking further.