Health and Wellbeing
It's vital in these challenging times that, as well as looking after our children's educational development, we also look after their health and wellbeing and social development (even if remotely).
Dance Party!
  – Eirinn McCrudden
Like musical statues, you have to listen for the music to stop before striking your best dance pose! Once you've got a hang of the game, it'll be made harder by giving specific instructions to follow when the music stops. 
Learning Intention: 
Experiment with different ways of moving, becoming aware of general space around them and listening to and following simple instructions. 
Activity: 
WARM-UP: This is a crucial step to make sure our bodies are awake and know that we're going to start some exercise. These short exercises will only last 30 seconds on and 30 seconds rest until the next one and will last a total of 5 minutes. These help to get our blood pumping and our hearts beating. Exercising you could do are: 
Star jumps

 

High knees

 

Running on the spot 

 

Hopping on one foot

 

Lunges

 

Side steps

 
DANCE PARTY: Similar to the game musical statues, put some music on and dance around! When the music stops, strike your best dance pose. Once your child is familiar and understands the game you can now try giving them some instructions to follow for when the music stops. For example: 
Walk like a

 

robot

 

Balance like a flamingo

 

Jump like a frog

 

Flap your arms like a parrot

 

Roll up tight like a ball

 

Stretch up straight like a tree

 
COOL DOWN: This step is very important to make sure your muscles are relaxing, and your heartbeat is slowing back down to normal. Similar to the warm–up, these exercises should only last about 5 minutes. Try doing some slow movements and stretches such as: 
Stretch your arms above your head nice and tall

 

Touch your toes

 

Cross right arm across front of body and hold with left (repeat for left arm too!)

 
Extension: 
For added exercises or to extend your PE time, the NHS Change 4 Life website has lots of Disney/ Pixar themes exercise activities you can do free of charge! Access at: 
https://www.nhs.uk/10-minute-shake-up/shake-ups
Emotion Potion – Lauren Presho
This Personal Development and Mutual Understanding (PDMU) activity allows young children to begin to identify different emotions while enjoying some messy play.
Learning Intentions:
To discuss and identify different emotions and consider capacity and measure while making 'emotion potions'.
Activity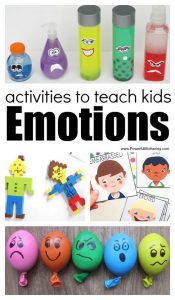 1. Resources: 5 empty plastic bottles or similar containers, measuring jug, funnel, different food colouring or paints, water, paper, colouring pens/pencils, glue/cello tape. Optional – vegetable oil and/or glitter.
2. If possible, watching the Disney film 'Inside out' is a good stimulus for this activity.
3. Talk with your child about different emotions (suggestions: happy, sad, angry, scared, excited). Encourage the child to talk about times when they have felt a particular emotion and share your experiences with your child.
4. Cut out small faces (circles) of paper and invite your child to draw different faces depicting the emotions – no more than 5! And stick these faces onto the bottles.
5. Using the measuring jug and the funnel ask the child to pour different amounts of water into the bottles to represent how often they feel the emotions. For example I feel happy a lot but I only feel sad a little bit.
6. Ask the child to assign different colours to the emotions and explain why (suggestions: Happy = yellow, sad = blue, angry = red, scared = purple, excitement = green). You can provide suggestions, however, go with whatever colour the child chooses. The child can then turn the water whatever colour they chose by adding paint or food colouring to the bottle and shaking it. Remember to put the lid back on!
7. Optional: To turn the emotion potions into even more attractive sensory bottles, a small amount of vegetable oil and/or glitter can be added.
8. If possible: It would be beneficial for the child to explain to another family member what the emotion potions are.
9. Activity sourced from Pinterest.
Carnival Games – Nicola Andrews
Enjoy the experience of  creating and attending your own carnival.
Learning Intentions
To develop hand-eye coordination and practise underarm throwing.
Activity
1. Tin Can Stack; stack tin cans and throw a soft ball or bean bag to try to knock them over. Re-stack for next person.
2. Target Practice; using buckets or bowls of different sizes and at different distances from the child, throw a ball or bean bag into the buckets/bowls.
3. Hoopla: use over-turned buckets or plastic bottles filled with water and try to throw a hoop over the target.The children could even use their teddy bears to hoopla.
4. Bowling: Try to bowl down all the tin cans or plastic bottles using a football.
5. If you don't have bean bags, fill old socks with rice or just use a pair of rolled up socks.
Time Capsule! – Oonagh McLaughlin
Learning Intentions
To create a personal narrative.
Activity
1. Your children could use this time at home to create a personal time capsule of their experiences.
write or draw about their activities at home
include letters from their school
cut out newspaper articles or headlines
write about moments such as the applause for the NHS
document what they see when they go for walks, such as rainbows in neighbours' windws
2. This could also be done digitally and they could create a digital diary entry each day by photographing /videoing their memories. They can share this with their teachers when they return to school.