An Inquisitive Nature
Nature and outdoors is a great place for playful learning and the garden, or any outdoor space you may be using for exercising, is a great resource and source for learning ideas. Try some of the ideas and activities our PGCE students have come up with.
1. Natural Art – Ellie Boyd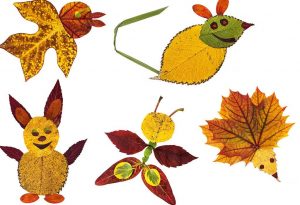 Your garden, or local walkways and parklands, are great places to exercise and keep your children healthy (ensuring you always practice safe distancing), but they also a great source of 'ingredients' for some creative art fun.
Learning Intentions
Encourage children to be creative and value their own artwork.
Activity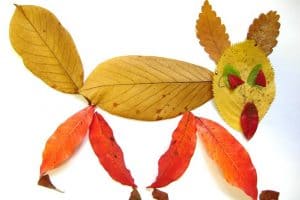 1. Go outside and collect some leaves, sticks, flowers, etc
2. Use glue to create different pictures or, if you don't have glue at home, tape can be used. Alternatively, they can simply arrange the objects to represent something and then take a picture (this could easily take place in the garden).
3. Their picture could be related to a storybook you have read together (e.g. can you make someone from the Gruffalo), their favourite TV character or an animal. These are just some ideas to get their imagination going!
2. Leaf Cutting – Mechelle Caughey
Use the natural beauty and shape of leaves to develop children's fine motor skills – please ensure children are fully supervised at all times for this activity.
Learning Intentions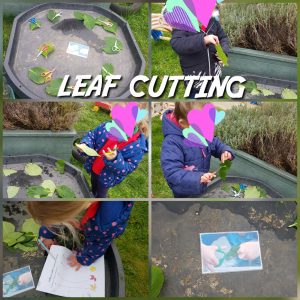 Children will improve their fine motor skills by using scissors and learn to use scissors appropriately and safely.
Activity
1. Go on a leaf hunt to  find different sizes and shapes of leaves.
2. In a large tray outside, practise their cutting skills by experimenting with the leaves and scissors.
3. Let them find other items from the garden to cut.
4. Encourage discussion about why some materials are more difficult than others to cut.
5. Children can also draw straight or wavy lines on paper and try to cut along the lines.
3. Senses Walk – Jaimie Carlile
Taking a walk around the garden is a great way for children to explore their senses.
Learning Intentions
Develop an understanding of thier senses through exploration of the outside environment and understand that senses can help them to keep safe from danger in the world around them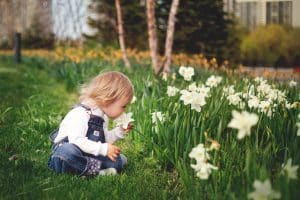 Activity
1. Resources needed: Clipboards, senses sheet and pencils.
2. Talk to the children about their different senses. Give them some ideas of what they might experience when they are outside and what to look out for: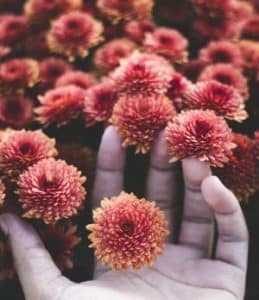 I can see – trees, leaves, playground, birds, insects, clouds, sky grass
I can hear – insects, birds, leaves rustling, drops of water falling, traffic passing, wind blowing
I can smell – leaves, grass, flower petals, food from the kitchen,
I can feel  –  bark (bumpy and rough), leaves (shiny and smooth), wall (hard), etc
3. Let the children explore an area outside (e.g. the garden). Each child will have a clipboard with a sheet of paper they can use to draw what they see, hear, smell and feel during their walk.
4. Talk to the children about being alert and how tuning into their senses is a good way of keeping safe, for example, oncoming traffic or smoke in a building.
4. Mud Kitchen – Jaimie Carlile
We may not be able to visit our local café but, using natural resources, your children can make and decorate cakes and buns for an outdoor café. Tasty!
Learning Intentions
Focus on children's motivation and imaginary play. Emphasis should be on building on previous knowledge while incorporating new experiences to stimulate imaginative play.
Activity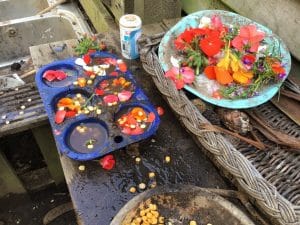 1. Resources needed: recipe cards (make up your own or print off twinkl), scissors (to cut herbs), acorns, pinecones, berries, water in a basin. Baking equipment – bun trays, cake tins, etc and items for decorating e.g. small pebbles, flower petals.
2. Talk to the children about what items they need to make their 'cakes and buns for their café.
3. Introduce mud kitchen recipe cards and photos of completed recipes to stimulate imagination.
4. Let the children use a range of natural materials to make up their own creations.
5. Add some more intricate items to decorate their cakes and buns such as small pebbles, flower petals, pumpkins seeds, etc to stimulate imagination and creativity.